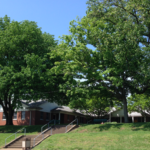 Hillcrest is a community-based residential facility for both male and female children ages 10 – 21 years who become a ward of the court or are in need of services through the Department of Child Services. Hillcrest is staffed 24 hours a day and provides Residential Services to children from any county in Indiana.
Children in Residential Services must be capable of participating in program services and a treatment plan, able to take care of their physical needs with minimum supervision, able to live with their peers and able to attend school or participate in an alternative Evansville Vanderburgh School Corporation program.
Each child will work with a social worker to develop a treatment plan at the time of admission. The child's family and the placing agency are also an integral part of developing the plan for treatment. Regularly scheduled reviews and progress reports are conducted to decide if the treatment plan is working to best fit the child's needs.
Hillcrest makes every effort to provide a safe and nurturing environment for children. Living units are divided according to age and gender, and meals are served in a common dining room.
Level System
A level system is utilized to assist each child in measuring his or her progress. Expectations are clearly outlined upon admission. As the child achieves higher levels, he or she is eligible for increased privileges. While privileges may be increased or decreased, basic needs are never withheld from the child. The system is based on set guidelines and may be modified to meet a child's needs.
Education
Ensuring that children are fully engaged in the educational process and in extracurricular activities is important at Hillcrest. An educational coordinator, who is an Indiana licensed teacher, is on staff to monitor each child's attendance, grades, and behavior and act as a liaison between our staff and the child's teacher. Tutoring is available on site in the evenings for all children, including those who are involved in an alternative school program. The educational coordinator also coordinates an education incentive program and a summer educational program.
Counseling/Psychotherapy
Each child is assigned to a counselor that meets with the child regularly to discuss and work through issues as they arise. The counselor also acts as an advocate and liaison for the child, maintaining contact with the family, placing agency, and other community agencies as needed. In situations where more intense outpatient therapy is needed, the counselor will assist the placing agency in making referrals to other community resources to obtain additional services for the child. Children at Hillcrest also participate on and off campus in groups focusing on topics such as anger management, conflict resolution, sexuality, problem solving, self-esteem, life skills, health and nutrition and study skills.
Medical Services
Medical services are available to each child at Hillcrest and are coordinated by a licensed, registered nurse. Each child has a physical examination conducted either by the placing agency prior to admission or by Hillcrest within the first two weeks of admission and exams are repeated on an annual basis. The nurse is responsible for assuring that the medical needs of the children are met which includes physical, dental, auditory, visual and lab procedures. The nurse is actively involved in training and educating the children on maintaining healthy lifestyles.
Activities
An activity coordinator plays an important role in encouraging children to take an active role in school and community activities, sports, and cultural programs. Age appropriate activities are designed to address the physical, intellectual, emotional, spiritual, and cultural development of youth.
Family Involvement
Assisting a child in developing and/or maintaining a relationship with his or her family is a priority at Hillcrest unless it is specifically prohibited by the placing agency. Regular visitation is encouraged, and the family is invited to attend scheduled meetings such as treatment planning and reviews. The family is advised of any changes in medical or emotional status of the child and is encouraged to offer input and feedback following any visitation.
Discharge
The counselor and child work together to plan for the child's discharge from Hillcrest. This includes sessions with the child and frequent communication with the family, court or placing agency.