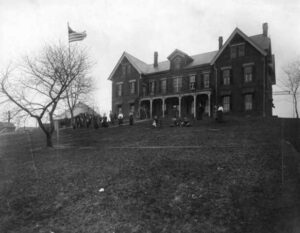 In 1871, a private residence built in 1849, was deeded to Vanderburgh County to use as an orphanage. This facility was named Hillcrest.
In 1952, Vanderburgh County constructed the new Hillcrest and Washington buildings to be used as residential care facilities for youth and operated by the Vanderburgh County Department of Public Welfare.
In 1986, a change in Indiana law required that all county welfare departments become part of the State Welfare Department. The State Welfare Department did not operate facilities, so the Vanderburgh County Commissioners put out a request to the community for agencies interested in operating the Hillcrest and Washington facilities.
Organized in 1984, Hillcrest and Southwestern Indiana Mental Health Foundation, Inc.,(Foundation) presented a proposal to the county commissioners and was chosen to manage the facilities. In June 1987, the Foundation officially began operating the facilities.
The Hillcrest facility began operating as a residential and emergency shelter facility for all children known as Hillcrest Washington Youth Home, Inc. Over the years, the Washington Building served as a facility for the Christa McAuliffe Alternative Middle School, the Learning Center and the office of the Child Sexual Abuse Agency Coordination Task Force. Today, the Washington facility houses our Healthy Families program as well as our out-patient services.
Through the years, major renovations to both facilities have been made to provide a safe and comfortable setting for children.  In 2017, the name of our organization was changed to Hillcrest Youth Services.  Thanks to continued support from our community, Hillcrest is able to provide needed services for children to enhance their quality of life and to provide them with opportunities to develop skills that will stay with them throughout their lives.